No, that's not a typo; it's an obscure Robert Fripp reference. I've continued digitizing my air check tapes from the original Argyll Adventure Tree broadcasts. I have K7's of almost all the AAT shows from the first (10-27-1987) to the last (06-11-1990). All the 1987 shows now exist in the popular mp3 format, as well as ten broadcasts from the following year. Here's a 1988 Argyll that features special guest, Lisa Slifer, and a fair amount of metal, along with some tracks from the Devo E-Z Listening Disc, over which we blab, that way we did.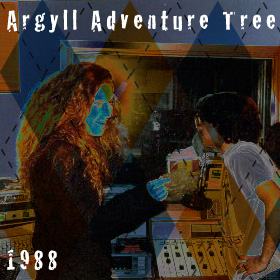 I think this image is a great analog to our aural shenanigans in 1988. Consider yourself warned.
I've divided the show into three files and encoded them at a lower bitrate than I used for the historic premiere Argyll (no longer available online, but if you ask nicely, we could make an arrangement...). Not coincidentally, the three files below time out the same as the media on which I recorded the show originally: Sides A and B of one cassette, and most of one side of another cassette.
I hope you enjoy this little bit of time travel. I must admit that I have not yet listened to the show all the way through, since my modus operandi for digitizing is to start the process and then go walk Olive or jog or shower or whatever (I'm digitizing real-time, which means a side of a cassette takes approximately 45 minutes to load into the Mac, during which I dare not risk doing anything else on the computer). Once the K7 side has been captured in Logic, I scan visually to find any possible instances of digital distortion. I fix those as necessary (how much do I love the pencil tool in Logic? Much.) and either digitize more material or bounce and convert the digitized material. No, I'm not saving Apple Lossless versions, let alone uncompressed 44/16 files (I know storage is cheap, and only getting cheaper, but I don't want to buy another hard drive now. I'm keeping all the cassettes. And let's face it, some of these shows don't even merit being saved on cassettes, let alone hard drive!).
(I'm just remembering how much I love parentheses. Would a writing teacher suggest my use of parentheses is a weakness in my prose? Perhaps we'll never know. I'm sure David Foster Wallace would approve.)
I've heard enough of the show to know that irreverence is still the order of the day, as records may be slowed down or sped up, wobbled, or interrupted repeatedly by legal station ID's from various members of GBH. Sometimes when I hear that stuff, I laugh exasperatedly at our young selves, like the way I laugh when Olive tears up a stuffed animal.
One exciting surprise, right at the beginning of the first part, is a promo cart for The Milky Way Express. Fans of Phil, among whom I proudly include myself, will undoubtedly enjoy everything about this bit of vintage PB, from the choice of backing music to the descriptions of the music he plans to play. About 30 minutes into the first mp3, you can hear the hilarious Romance Askance cart. "Ewwwwwwwww!" An absolute classic.
Also on this show you can hear me interview Robert Plant, and a phone message Dog left on Holly's answering machine. Mostly, though, it's back to playing records. The previous several shows had included a fair amount of studio wankery (tape loops, multiple records playing at the same time, improvised live noise-making, that kind of stuff). Enjoy! How could you not, when the records include Sting's Spanish-language "Si estamos juntos?" Why oh why did I sell that CD?
See the "treets" page for links to other old episodes of the classic show.